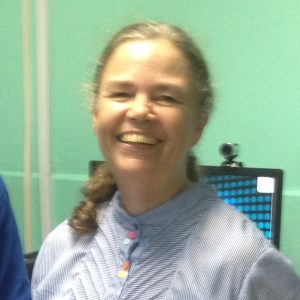 The Foundation is fortunate to have had Diana Bennett, a U.S.  Peace Corps volunteer work  with our project in Paritilla, San José, and La Laguna as a Response Volunteer.
Diana spent two years in the village of Las Trancas in Panama, then continued her service for a year to teach computer classes.   She  traveled all over Panama to teach computer courses at remote sites, and  worked with the government agency SENACYT to train the managers of their Infoplazas.
In her assignment to this Foundation, she worked with the people of Paritilla to  develop the new Computer Learning Center and with the Computer Learning Center in La Laguna, to improve daily operations and programs of the center.  Additionally, she provided programming support to the Centers in Isla Cañas and San José.
Diana is now retired, and has returned to her home in Pennsylvania.  Fortunately for all of us, she has become a member of the Board of Directors of the Foundation, and continues to share her expertise with ongoing projects.